In our Christian walk, we need to examine whether our primary objective is to produce fruit — or just look good. The even harder question, "Are we willing for the Lord to prune our lives as He sees fit?"
---
In 1986 I was conducting a home Bible study in Bedford, Texas. During our share time, we would talk about things going on in our lives.
On one occasion, a member of the group shared that he had a peach tree in his backyard that he was considering cutting down. Having worked in orchards for several years, I asked him why. He said that he had done everything that he knew to do, but the tree wouldn't produce fruit. I knew immediately what the problem was.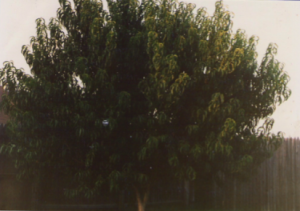 So I offered him this proposition: If he would allow me to care for the tree for one year, and do whatever I wanted to do to it, I would cut the tree down for him if it still didn't produce peaches. He asked me what I would do differently from what he'd done, but I said that I would rather show him than tell him. He agreed.
The peach tree, pictured here, had been given all that it could need or want, by way of space, water, fertilizer, bug protection, etc., to be able to grow to maturity. In return, the tree had been busy. It had produced many fine limbs and plenty of leaves. But it hadn't done the one thing it was supposed to do: produce fruit.
I immediately thought of John 15:1-11. Verse 8 reads, "Herein is my Father glorified, that ye bear much fruit; so shall ye be my disciples." This tree is a perfect parable of many churches and Christians today. Like this tree, we can get so busy doing the things we think are important, that we forget our real purpose is to bear fruit.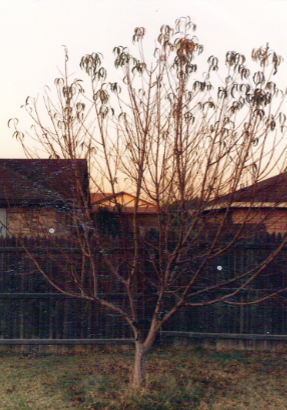 Now, I waited three months before I did anything to the tree. But when its leaves were almost gone, I got to work. Notice in this second photo that there wasn't a dead limb on the tree. It was healthy, and well-shaped. But appearances can be deceiving.
A well-trained eye will notice that the tree was doing what a tree does best when left to nature: produce limbs and leaves. Even a fruit tree will miss its greatest opportunity without careful pruning by its caretaker. Fruit trees are not hurt by pruning; in fact, it's just the opposite.
The critical fact you need to know about fruit trees is that their fruit only grows on new wood. Fruit will never grow on last year's wood. So this tree was using all the resources it had been given to produce the only "fruit" it could: its foliage.
After I pruned the tree for a couple of hours, it looked like this. I would normally have removed even more limbs, but I didn't want the tree to go into shock and die. I then went home and forgot about the tree.
In late August, I got a knock at my front door. When I answered it, that same man from the Bible study was standing there — with three boxes of peaches from his pruned tree.
I started to protest that I didn't want to take all of his harvest, but he interrupted me. "This is just some of the fruit," he said. "In fact, I have already given fruit to others, and we still have more fruit than we can use!"
"I am the true vine, and my Father is the gardener.

He cuts off every branch in me that bears no fruit, while every branch that does bear fruit He prunes so that it will be even more fruitful."
I will close with what Jesus teaches His disciples in verse 11. "These things," says Jesus, "have I spoken unto you, that my joy might remain in you, and that your joy might be full."
---
Guest blogger Vernon Ball, a retired pastor, is 75 years young. In his 50 years of preaching, Vernon pastored five churches and served as interim pastor of four others. He is the author of the book, The Mystery of Faith. A great-grandfather of 12, Vernon is currently involved in international ministries in Eastern Asia. His website: Ballministries.com.