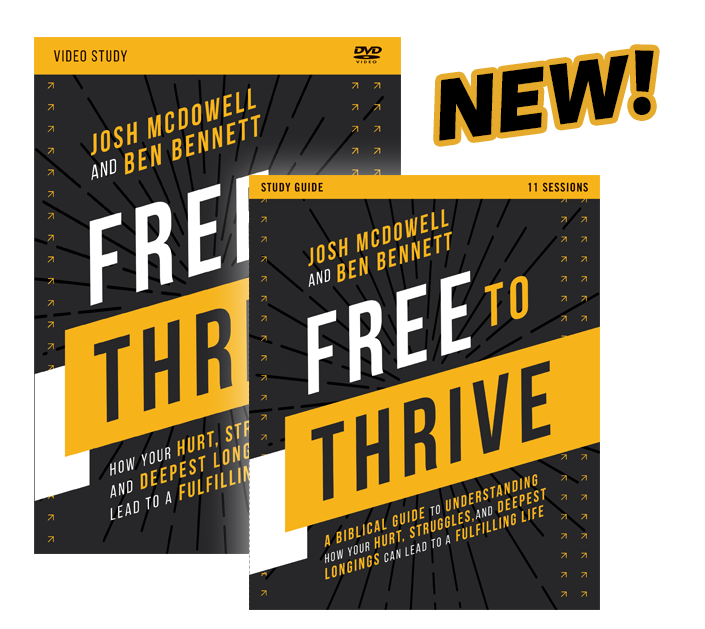 Overcome your struggles.
Fulfill your deepest longings.
Your whole life awaits you.
Start the conversation
on mental health, healing from brokenness, and living in wholeness.
Whether you–or someone you know–is stuck in a pattern of unhealthy behaviors, dealing with anxiety, shame, guilt, or unhealthy relationships, there is a way out. God has more for you.
Our struggles are not random.
They are signals that, when answered, can lead us toward a thriving life.
In the NEW Free to Thrive Video Study and companion study guide, best-selling author Josh McDowell and dynamic speaker Ben Bennett encourage you to join in community with others and start your journey of healing. You will discover real solutions for overcoming past hurts, trauma, and unwanted behaviors.
You can lead others
into healing and experiencing a thriving life.
By initiating this study in your church or group, you can help others overcome hurts and unhealthy choices and move them toward the thriving life they were made for.
Meant for use in a group setting, each of the eleven sessions present biblical teaching, neuroscientific research, time-tested principles, and encouraging stories of people who faced similar hurts and found healing.
Sessions include:
No matter what you are struggling with,
it is possible to experience the spiritual, emotional, and relational wholeness God wants you to have.
I have tried many times over the past forty years to break cycles of negative habits. Finally I was introduced to your [Free to Thrive]! It is so well researched, and I feel at times it was written just for me. I am finally getting the help I need through it and counseling.
New! Free to Thrive Video Study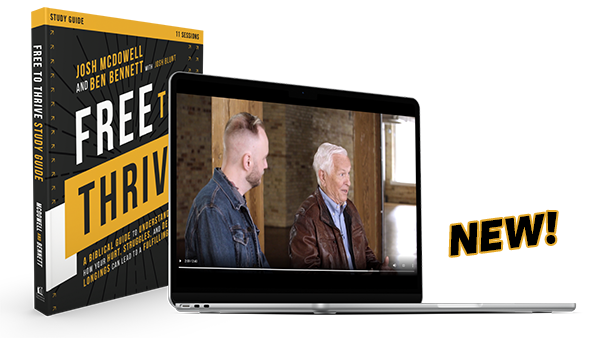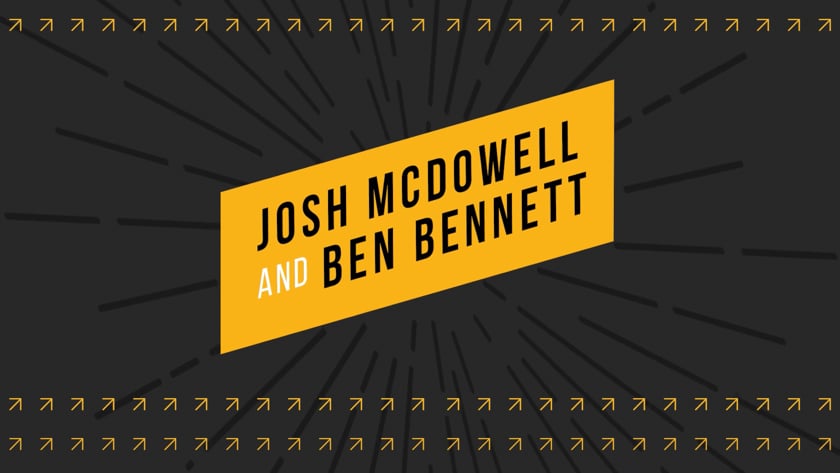 *Over 25 pages of sermon content to help your congregation become free to thrive
Free to Thrive
All in One Pack
Free to Thrive
Study Guide
Free to Thrive
DVD & Study Guide
Free to Thrive Book (autographed)
Praise for Free to Thrive
"In Free to Thrive, Josh and Ben help us confront our why. That is the why we feel stuck in life, why our attempts at growth stall out, and why addressing the hard stuff we avoid positions us to thrive."
"We've groomed a generation of hidden people. We've hidden our struggles, our brokenness and the things we've not even had the courage to admit to ourselves. I'm grateful for men like Ben and Josh who've decided that true thriving is found in bringing hidden places to light through words that'll last to eternity."
"We've groomed a generation of hidden people. We've hidden our struggles, our brokenness and the things we've not even had the courage to admit to ourselves. I'm grateful for men like Ben and Josh who've decided that true thriving is found in bringing hidden places to light through words that'll last to eternity."
"Free to Thrive is an incredibly important book for all generations. Through sharing their life experiences, Josh and Ben demonstrate how God can exchange ashes for beauty and in doing so transform a life and change the world."
"In Free to Thrive, Josh and Ben provide a proven path to healing from hurt, freedom from what holds you back, and how to experience the flourishing life in Christ that we are created for."
"Many are grappling with how to care for those impacted by anxiety, trauma, and addiction. Thankfully, this book provides clear answers straight from the truth of God's word."
"Josh McDowell is one of the best apologists I know. This book is something a bit different though. Vulnerable and honest, Free to Thrive helps us understand the hunger and thirst for greater freedom, joy, and wholeness that aches in the deeper parts of our soul and then helps us move toward it."
"Healthy leaders are one of the world's greatest needs today. Free to Thrive provides a clear path to deal with your past, understand your unhealthy habits, and move toward the healthiest future."
"Our prayer is God will use this study to give you the tools you need to finally heal, to overcome the things you've tried to stop doing – and not just be free, but to be free to thrive."
–Ben & Josh