In a world filled with uncertainty, one question has risen above the rest:
We've all encountered those challenging passages in Scripture that seem to test our understanding of his goodness. Moments where we struggle to reconcile our view of a loving God with seemingly harsh commands often cause us to wrestle with our faith.
"Why Did God Do That?" emerges as your indispensable compass, leading you through the complex passages of the Bible, revealing the subtle threads of God's goodness interwoven even within the most perplexing narrative.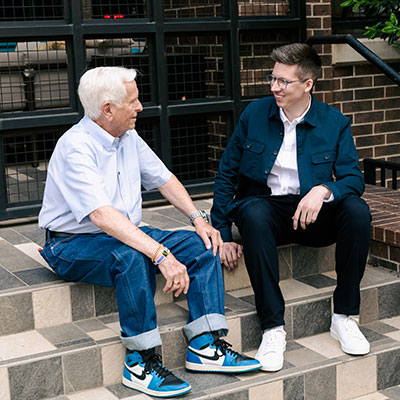 Prepare to embark on an eye-opening journey with Matthew Tingblad and Josh McDowell.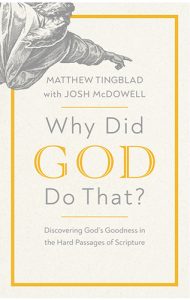 Author Matthew Tingblad introduces Why Did God Do That?
While well organized and accessible, this book is deep, thorough, and carefully researched…..By emphasizing God's patience, his desire that all be saved, his constant warnings of judgment, his holiness, and the severity of human sin and depravity, Tingblad and McDowell argue convincingly not that God is good in spite of these texts; rather, he is good within them."
J.P. MORELAND
J.P. MORELAND Distinguished Professor of Philosophy, Talbot School of Theology, Biola University, and author of A Simple Guide to Experience Miracles
Violence in the Old Testament. Misogyny. Hell. These are topics many Christians would shy away from or try to dismiss with a quick answer. Instead, Tingblad and McDowell acknowledge the real challenge these topics pose–and yet boldly proclaim that Christianity has the resources to demonstrate God's goodness. This is a nuanced, well-balanced, and exceedingly strong case for our good God."
LEE STROBEL
New York Times bestselling author and founding director of the Lee Strobel Center for Evangelism and Applied Apologetics, Colorado Christian University
What Tingblad and McDowell have done in this book is absolutely fearless. They've pulled no punches and addressed hard questions head-on. Whether you are struggling with some difficult theological doubts yourself, or you want to be better prepared to talk about your faith…Tingblad and McDowell have paved the way for you…"
ADAM GRIFFIN
Lead pastor, Eastside Community Church in Dallas, Texas, coauthor of Family Discipleship, and host of the Family Discipleship Podcast