Articulate Your Faith to a Skeptical World
For more than 40 years, Josh McDowell's classic book, Evidence That Demands a Verdict, has convinced skeptics of the Bible's reliability, helped believers articulate their faith and given them the vital facts they need to defend God's Word and lead others to faith in Jesus.
Now Josh and his son, Sean, have created a 6-week video study based on the updated book. They will guide you through an examination of why the claims Jesus made about himself are true, how we can know the Resurrection took place and why we can be sure the Bible is reliable and accurate.
This study is for anyone who has ever been stumped by arguments against Christianity or the Bible–or has wondered for themselves if the Bible's depiction of Jesus is true and not just a made-up fairytale.
Armed with the book and video study, you'll know what you believe, why it is true and how you can communicate biblical truth to a skeptical world. Perfect for small groups, Sunday School classes or individual study.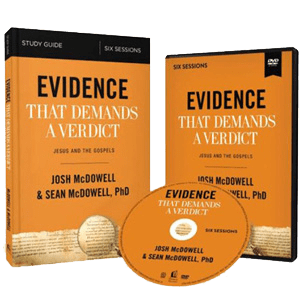 Get the complete first session for FREE!
(video and study guide)
Josh McDowell and his son, Sean, have given us an updated and relevant tool to encourage faith and trust in the reliability of Scripture. If you want to defend the veracity of the Christian faith in the 21st century, Evidence That Demands a Verdict is the book for you.
When I was a college student full of questions about the authenticity of my faith, I used Evidence That Demands a Verdict as my go-to reference book. I'm grateful to Josh for this updated release for my two sons.
A treasure trove of apologetics gems! Countless people benefited from the original version, but this updated and expanded edition makes this volume even more valuable and timely.
For we who love logic, reason, and apologetics, this is 'manna from heaven.' We all need precise, accurate answers. We all need Evidence That Demands a Verdict to defend our faith.
In 1972, shortly after the accident in which I became paralyzed, I picked up a book that helped solidify my belief in God and faith in Christ. Evidence That Demands a Verdict offered up the rock-solid evidence I needed to believe there was a personal God who genuinely cared about my plight. I'm so happy that this timeless classic is now updated and being released to a whole new generation of readers!
Josh McDowell has been a heroic voice of reasonable faith for a generation. He and Sean team up to answer the skeptics and cynics of today with a reason to believe. This is truly the 21st century Evidence That Demands a Verdict.
Evidence That Demands a Verdict is a book that all Christians should own. I am an apologist today due to the impact the original edition made on my life. With this book as my tutor, my skeptical friends began to be won to Christ.  A new generation is about to experience this bona-fide classic!
This book changed my life. It showed me the staggering welter of evidence for the historicity of the bible, and convinced me that having faith in the biblical God is infinitely more rational than not having such faith.
For years I have watched Christian colleges essentially fail to teach the next generation how to defend a Biblical worldview and the orthodoxy of our faith.  I am determined to not let this happen at any university under my charge.  I simply will not let my students graduate without being confronted with the revised and updated Evidence That Demands a Verdict. I pray that all other Christian scholars and leaders would do no less.
In 1972 Josh McDowell's Evidence That Demands a Verdict first took the world by storm. This update by Josh and Sean is fully abreast of the very best of contemporary scholarship; it's a gold mine of information on the major apologetics questions.
As I think about how to help students and young adults thrive in a culture that is hostile to Christian thought, I'm most concerned about helping them access not just the best information, but the best relationships and mentorships. As your imagination is captivated by what the next decade of disciple-making will look like, imagine the combination of the revised version of Evidence That Demands a Verdict combined with the power of your relationship and influence in the lives of the young people you disciple. You will be the catalyst that influences the hearts of these young life, and this remarkable resource will guide your conversation as you help shape the minds of a new generation of disciples.
New discoveries require major updates, new arguments, more careful nuancing, and new proposals to address. The revised Evidence That Demands a Verdict is a valuable resource for those wanting to know whether there truly is enough evidence to suggest the Christian message is true.
Scholars, students, and the general public will benefit greatly from this new and greatly expanded edition of Evidence That Demands a Verdict. The problems, the challenges, and grounds for skepticism are clearly and fairly expressed—there are no straw men. Josh and Sean McDowell do not dodge the issues; they tackle them head on and do so in an informed and compelling manner.
When I was searching for answers to my doubt, Evidence That Demands a Verdict helped to open me to the truth. This revised book is an apologetics multi-vitamin for the person seeking a healthy diet of truth. The excellence in argumentation with the father-son author combination makes this book a one-of-a-kind!
I first encountered Evidence That Demands A Verdict when I was in college in 1979.  Not only did it open my mind to the considerable historical case for the Christian faith, it led me to explore and seek answers for questions in philosophy and theology as well.  This significantly revised and updated edition of Evidence will reach a new generation of curious students and other seekers moved by the same desire that drove St. Augustine to pray, `Thou hast formed us for Thyself, and our hearts are restless till they find rest in Thee.'
Josh and Sean McDowell's combined knowledge, integrity and passion for sharing the gospel has produced something truly special. This updated edition, comprehensive in scope and yet immensely readable, will powerfully present the latest evidence to a new generation with a new set of questions. An essential resource for every thinking Christian who wants to give a reason for the hope that they have.
When I was in college and needed material to discuss with skeptical friends, Evidence That Demands a Verdict was a key resource for me. Now it is updated and an even better repository for discussion.
In an era where spiritual beliefs are fluid and truth is increasingly viewed as a four-letter word, Evidence that Demands a Verdict fills a desperate need. It's more important than ever that Christians grasp the evidences that support their faith, so they can gently, lovingly, and confidently share the Gospel with their unreached friends. This updated book provides a logical, thorough, compelling examination of the preponderance of evidence for the truth of Christianity.
Though hard to believe, this updated version is even better than the original. Josh and Sean McDowell approach apologetics comprehensively and boldly, addressing every challenge thoroughly and convincingly. Evidence that Demands a Verdict will reinforce and reinvigorate your faith like few other books on the market.
As a college student in the 1980s, I experienced the scholarly attacks on the trustworthiness of Scripture first hand. The attacks on Christianity have gotten even more intense, but Josh and Sean show us that we don't have to choose between faith and reason.
Significant. Timely. Life-Changing. For decades, Evidence That Demands a Verdict has met believers, seekers and skeptics at the intersection of faith and fact, laying a foundation of unshakeable, time-proven truth for us to stand on through ages of skepticism, mysticism and so-called tolerance. I am thrilled for the updated and expanded edition of this landmark resource to reach the hearts and minds of a rising generation, and I trust it will have the same impact in their lives as it did in mine. I'm grateful for Josh and Sean McDowell's relentless passion to equip and empower God's people to confidently and boldly stand for truth. You'll want to keep this book close at hand!
In the Christian school my sons attended, the Bible teacher purchased Evidence That Demands a Verdict for every junior and used it in his curriculum. I am so thankful that my boys developed a firm foundation for when life gets rocky.
Betsy Simpson
I had been struggling with my faith, due to seemingly persuasive arguments from skeptics. Thanks to your book, I now have a clear view of the historical evidence for Christianity. Evidence That Demands a Verdict has helped me to realize the truth of God's Word. Thank you!
Jon
When faced with the evidence that Jesus Christ was the fulfillment of Old Testament prophecies and that His resurrection did, in fact, take place, I got down on my knees and repented. I put my faith in Jesus Christ as my Savior. My life has not been the same since!
Lee Smith
Crossroads Bible Fellowship, Henderson, NE
I have always been a skeptic. I don't trust many things on face value and have to do my research. My husband's co-worker gave me a copy of Evidence That Demands a Verdict. It was exactly what I needed! After reading it, I came to the conclusion that the words in the Bible are true. This book led me to give my life to Jesus!
As the lone believer in my platoon, I often get asked, "How can you be sure?" and then challenged to "Prove it!" With the help of Evidence That Demands a Verdict, I can now answer questions that I couldn't answer before."
Serviceman, 82nd Airborne
The original Evidence That Demands a Verdict was instrumental in solidifying my faith and subsequently enabling my spiritual gift of teaching. For over forty years it has been an important component of every Bible class I've developed or taught.
I saw Evidence That Demands a Verdict on a co-worker's coffee table. The thick book looked boring, with its small font, single-spacing, and no graphics. Nothing about it enticed me to read it except the title. But when I started reading it, I wasn't able to put it down until I finished the whole book! Each page served as an audible voice from God, answering all my questions about His sovereignty. Now my heart fully embraces God's Lordship.
When I was going through a rough time in my life, I decided to see which religion, if any, was true. Evidence That Demands a Verdict caught my eye in a bookstore. It was amazing! It answered many of my questions.
My two sons graduated from a Christian school where the Bible teacher purchases Josh's book, The New Evidence That Demands a Verdict, for every junior and uses it in his curriculum. He wants to make sure his students left high school knowing what they believe and why they believe it.
Mom