Josh McDowell and Thomas Williams release new book
Who am I? Why am I here? Where am I going?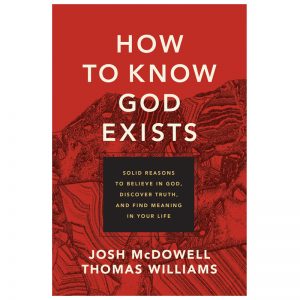 It's popular these days to be told that the answers to life's mysteries lie "within." Yet if that's the truth, then why haven't we found definitive answers? Could it be that our preoccupation with ourselves is actually getting in our way of seeing the truth?
In this book Josh McDowell and Thomas Williams explore misconceptions inherent in secularism and naturalism (the theory that nature is all that exists because a transcendent God doesn't), and how secular origins theories often contradict science, reason, and observable reality. They also provide an overview of the essential foundations undergirding Christian beliefs, so readers can objectively decide if atheists and other skeptics are right when they claim that Christianity is just "fantasy." They do this without using biblical references to support their arguments.
How to Know God Exists will:
Offer rational defenses for the existence of God, truth, morality, meaning, and reason
Use reason, logic, experience, and common sense to show that God offers the truth required to make sense of reality and bring meaning and joy to life
______________________________________________________________________
How to Know God Exists: Solid Reasons to Believe in God, Discover Truth, and Find Meaning in Your Life
by Josh D. McDowell and Thomas Williams
A Tyndale Elevate Title
November 22, 2022; 288 pgs; $14.99
ISBN: 978-1-4964-6122-3
______________________________________________________________________